Laminated Architectural Glass is made of float glass, by interlaying PVB membrane between tempered glasses. It can be two or multiple glazing. The firm and tough bindings between PVB membrane and glasses make to combine safe glazing and excellent performance.

PERFORMANCE
Excellent safety performance: when broken, fragments will adhere to the plastic interlayer, reducing the risk of dangerous glass shards from injuring people and damaging properties. Besides, the whole glass still keeps its integrity and can continue to resist impact and provide a shelter from wind and rain.
It has established all of the advantages of laminated glass: Safety and security, sound dampening; ability to offer solar control for energy savings; filtering the ultraviolet; sound insulation.
SELECTION
According to different usage, laminated glass provides SGP and PVB interlayer films for selection.(PVB) polyvinyl butyral interlayer has been continuously improved over the long history from its inception as the preferred material for safety glass.(SGP) SentryGlasRPlus interlayer for laminated safety glazing is the latest innovation in DuPont¡¦s family of glass laminating products. It extends the performance of laminated glass beyond current technologies. SentryGlasR Plus Interlayer offers five times the tear strength and 100 times the rigidity of conventional PVB interlayer.
Because of its added strength, clarity, durability, fabrication and installation ease, it is an excellent candidate for demanding applications in the architectural market place. It can offer improved ballistic protection or thinner constructions than are now possible with conventional laminated glass.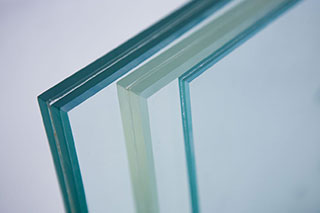 Max lamination layers: 3 glass panels
Min size: 100*100mm
Max size: 6000*2000mm